With over twenty years of experience in solo travel, our contributor Esther Greene tells us about her most challenging trip yet: an epic road trip in the height of the pandemic.
I'm really passionate about solo travel. And I mean really passionate. To the extent that two years ago I quit my job to get an MBA and started a solo travel app.
I haven't found any other way to actively, measurably, and consistently grow more confident, self-aware, and empowered in a short amount of time – all with the added bonus of having fun and getting great photos for my instagram feed! It's my favorite thing to do and has become a huge part of my identity.
Solo Travel Can Be Challenging
But even with twenty or so years of experience under my belt, traveling solo can still be a real challenge. When something goes wrong you're on your own and there's nobody there to help you get through it.
The solo trip that was the hardest for me took place in month five of the pandemic.
Packing for My Road Trip
By the time August rolled around last year, I knew that I had to get out and have an adventure. Making even the smallest of decisions in a time of vast uncertainty was incredibly hard and planning for physical safety was paramount. But epic was what I needed, so an epic road trip it would be.
I put together comprehensive medical and car kits, packed a wide range of clothing so I wouldn't have to step foot inside a store, and packed an extra week's worth of food in case I got bored or stranded.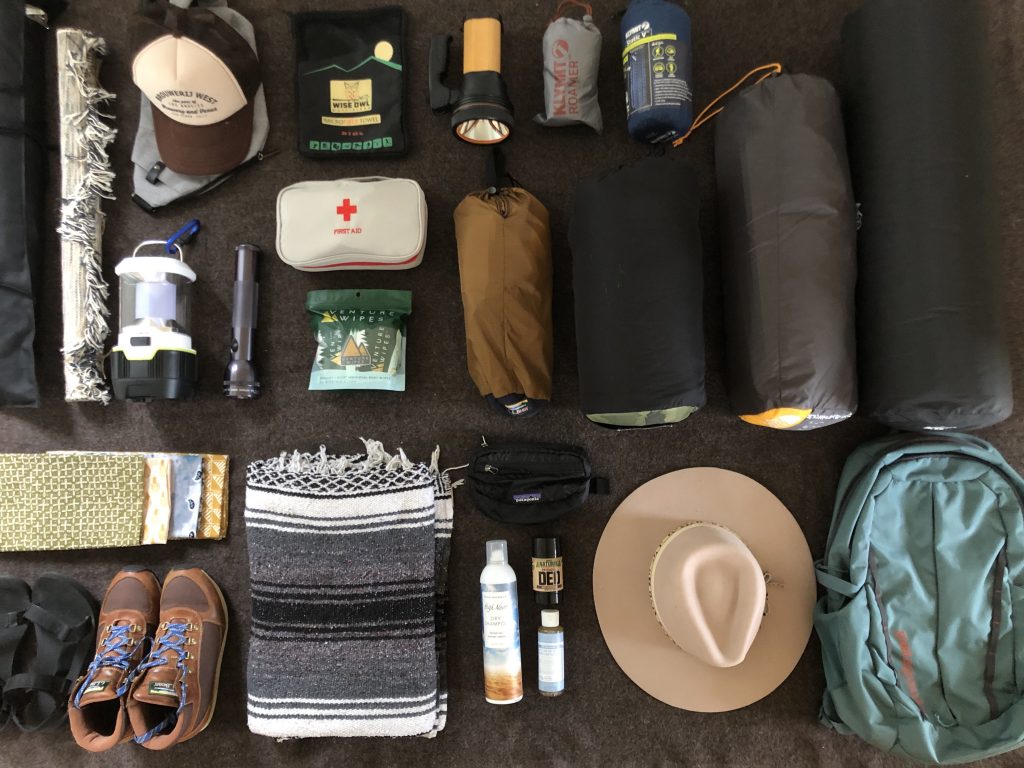 Lessons Learned During My Epic Road Trip
I spent almost three weeks preparing and when time came to hit the road I felt ready. Here's what I learned on that road trip:
Lesson #1: Check the forecast before you go and download a good weather-tracking app.

My first stop was Indiana Dunes, an 8.5 hour drive from home, and around the same time I rolled up to the campground a tornado warning started blaring. Normally I would google what to do in a tornado but service was down so I rode the winds, rain, and falling foliage out in my car. 

Lesson #2: Your wifi WILL go out! Download your maps in advance, have an atlas as a backup, and stop for gas every time you hit 1/4 tank to be safe.


Next I headed to the Badlands in South Dakota. Wifi went out again as soon as I entered the park, but luckily that park is pretty small compared to others and I had a full tank of gas, so I eventually rolled up to Sage Creek Campground around 5pm. It was a bone dry 106 degrees, but I enjoyed watching the prairie dog colony play in the center of the campground, met another solo traveler in the campsite next to me, and woke up to buffalo grazing only a few hundred yards away from my tent.  


Lesson #3: When a campsite says "primitive" that means there's no shower or flush toilet.

My next stop was Mt. Rushmore (there was a motorcycle convention in town so the crowds were insane) and then a campsite in the Black Hills National Forest. This was the second campground in a row without a shower so I waded into the lake with my biodegradeable soap and then boldly braved the vault toilets (actually not bad but I was glad I had a mask).

Lesson #4: Travel time computes differently on small roads and staying outside the park could add hours to your drive. 

Onto Yellowstone…! I decided to take the scenic byway in Wyoming, which only added a few more minutes to the drive on google maps, but I got stuck behind a slow vehicle in Bighorn National Park and that two minutes turned into an hour. 

I stayed at a campsite just outside Cody, which, on the map, looks like it's immediately bordering the park, but my total drive time just to get to the park entrance ended up being about an hour and a half. I'd planned to hike in Grand Teton on the same trip since it borders Yellowstone, but since I was only in the area for a few days and the driving turned out to be a lot more than expected, I ended up skipping the hikes and opting for mostly scenic drives, stop-offs, and wildlife-sightings instead. 

Lesson #5: The big National Parks are insanely busy during the summer so plan your trip well in advance.

I went from Yellowstone & Grand Teton to Arches & Canyonlands with a stop at a quiet campsite in Swan Valley Idaho. *Note to self: Go back to Idaho, it's really pretty. 

As it turns out, approximately EVERY HUMAN ALIVE heads to one of the top ten parks (and the surrounding area) every summer… okay, that's technically an exaggeration, but it certainly feels like it's true! Every attraction was packed, the roads were crowded and slow, and campgrounds book up months in advance.

Lesson #6: Nature is a beast: always have a backup plan and stay flexible. 

I had planned to stay in Utah for three nights but ended up leaving a day early because there were natural disasters ramping up along my route home and I was worried about getting stuck. 

I decided to skip my last stop and drive 16 hours straight to get home (well above the recommended 9 hours per day). The last few hours were pretty hairy and I was driving pitch-black mountain roads blurry-eyed in the dead of night – it was awful! I made it home safely but immediately vowed to never do that again. 

I wanted an epic adventure and that's what I got! One of the reasons I think solo travel is so empowering is because things always go wrong; having to adapt quickly and problem-solve in the moment trains you to trust your instincts and get creative, and that sense of agency and ownership over your actions pays off in dividends in real life.